Watch movies that open your heart-mind. Watch documentaries from which you can learn and appreciate things. Be ready to change. Support local independent cinemas. Visit local independent festivals. Participate in crowdfund campaigns. Share whatever truly inspires you. Give your favourites to your friends. Remember this: The gift must always flow!
On Storytelling
I begin to think that we would do wisely to tell different kinds of stories. Most of our movies seem to revolve around good-vs-evil, us-vs-them, win-vs-lose, conflict, suffering, violence, victory by force, feeding the myth of separation. The protagonists (and/or antagonists) in these stories may become our role models for conflict resolution. We can learn from them how to resolve conflicts by "othering" and overcoming "the other".
What if we tell stories that emphasize cooperation, transformation, realization, awakening, creativity, healing, compassion, non-violence, interconnectedness, interbeing?
What if we show surprising solutions to our age-old riddles of drama, fear and conflict?
Recommendations
Here I'd like to present some of my favourite movies to you. I am always grateful for your recommendations!
No movie has ever touched me more deeply than this story about Tashi, a Buddhist monk, who re-enters the mundane world and gradually realizes the true nature of suffering.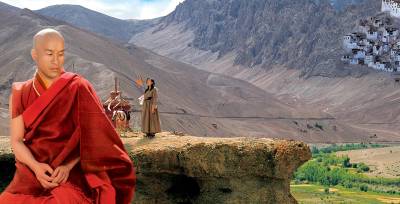 An insightful story, brilliant colours, amazing landscapes, and the most wonderful love scene I have ever seen.