I started playing chess in 1986, when I was 7 years old. Although my intense passion for this highly challenging mind-sports waned a little in my later teenage years, I've always remained very fond of it. Indeed I strongly believe in the benefits of learning chess for kids, so I sometimes teach kids in classes, or assist as an umpire in youth chess tournaments.
I am playing in the oldest still-active Austrian chess club, the "Schachgesellschaft Graz" founded in 1877. We are actually also one of the oldest still-active chess clubs in the world! Contrary to what you might expect, we are a relatively young team, defining ourselves by our fighting spirit and sense of humour. We also provide weekly chess training sessions for kids. And beware! – we are growing stronger each day. :-)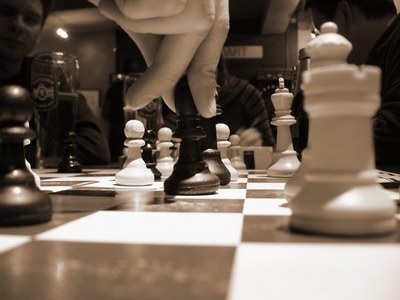 My current national Elo-rating is 1869 (my personal best was 2012, but not in the year 2012, which would have been epic). I do not yet possess an international Elo-rating.
Austrian Chess Federation
The London Chess Centre
ChessCafe.com