Watch movies that open your heart-mind. Watch documentaries from which you can learn and appreciate things. Be ready to be transformed. Support local independent cinemas. Visit local independent festivals. Participate in crowdfund campaigns. Share whatever truly inspires you. Give your favourites to your friends. Remember this: The gift must always flow!
On Storytelling
I begin to think that we would do wisely to tell different kinds of stories. Most of our movies seem to revolve around good-vs-evil, us-vs-them, win-vs-lose, conflict, suffering, violence, victory by force, feeding the myth of separation. The protagonists (and/or antagonists) in these stories may become our role models for conflict resolution. We can learn from them how to resolve conflicts by "othering" and overcoming "the other".
What if we tell stories that emphasize cooperation, transformation, realization, awakening, creativity, healing, compassion, non-violence, interconnectedness, interbeing?
What if we show surprising solutions to our age-old riddles of drama, fear and conflict?
Maybe something like Native American Learning Stories? The story "Who Speaks for Wolf" is one beautiful example that always moves me to precious tears. Might the structure and essence of such "learning stories" find their way into our movies?
Recommendations
Here I'd like to present some of my favourite movies to you. I am always grateful for your recommendations!
This gem of a low-budget movie is sometimes classified as "Sci-Fi", but I think it is much "less-is-more" than that. No special effects. One location. Two handfuls of actors. A deeply thought-provoking story.
I have been deeply touched by this story about Tashi, a Buddhist monk, who re-enters the secular world and gradually realizes the true nature of suffering.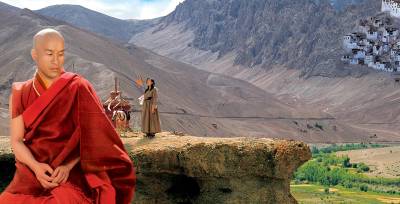 An insightful story, brilliant colours, amazing landscapes, and a most beautiful love scene.
A stunning and very timely documentary about photographer Sebastião Salgado and his life work: from documenting exploitation, conflict, famine and death, all the way to a re-discovery and appreciation of the beauty of life on this planet, including the trees and forests. In my humble opinion, this is a must-see for all citizens of this planet.
Recently watched (and recommended)
"Im Taxi mit Madeleine" (original title: "Une belle course")
"Das neue Normal"
"The Banshees of Inisherin"
"Dune" (2021)
"The Father"
"Nomadland"
"Der wilde Wald" (documentary)
"Paradise War: The Story of Bruno Manser"
"I am your Man"
"Woman" (a beautiful documentary by Yann-Arthus Bertrand)