I completely forgot to mention these news: After many years of work and ten thousands of unpaid working hours, we can finally and proudly unleash upon all mankind our wonderful 2DVD Director's Cut edition of Jenseits!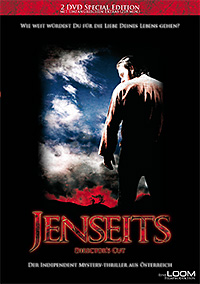 The highly professional 2DVD set is packed with bonus material (218 mins on DVD #2) and provides a lot of value for money. We received some great reviews saying that they'd wish for many Hollywood productions to include so much interesting material (and such a good 5.1 surround sound mix)!
The soundtrack CD comes in a nice vinyl look and contains 79:35 mins of some modern tracks and the wonderful classical score from our Swiss composer Matthias Erb (performed by singers, orchestra and choir).
Watching the extensive DVD bonus material brought lots of memories back to my mind – a time of adventure, madness, challenges, surprises, teamwork, progress and achievement. Sometimes combined with ecstatic joy, sometimes with tension … overall an invaluable experience!
If you want to support our work (and help us clear our debts :-)), you can buy the DVD and CD in many Austrian stores, order through our homepage, or get it directly from the crew (the cheapest option). My humble advice: do it today! :-)