Tuesday, 15th June 2021
I started the day with a Pilates abdominal workout on the carpet, ate yummy leftovers from yesterday for breakfast, took in the view from the balcony, and then car & driver got back on the road. Nine hours of driving (with breaks) across Germany were upon us. It felt good to have a clear destination and a clear path towards it. Grounded determination. No desire for meanderings today.
Of course the universe lovingly injects the right obstacles. How could I not love it? In Rohnetal the car and I performed my first ever fully autonomous oil refill. After double-checking the manual, I found the right lubricant for this precious engine that has been running smoothly for almost 300,000 km. The tricky part was to find the mechanism to lift the hood, elegantly hidden in the Audi logo. The refill itself was easy. After 42 years, I am thus no longer a virgin when it comes to motor oil.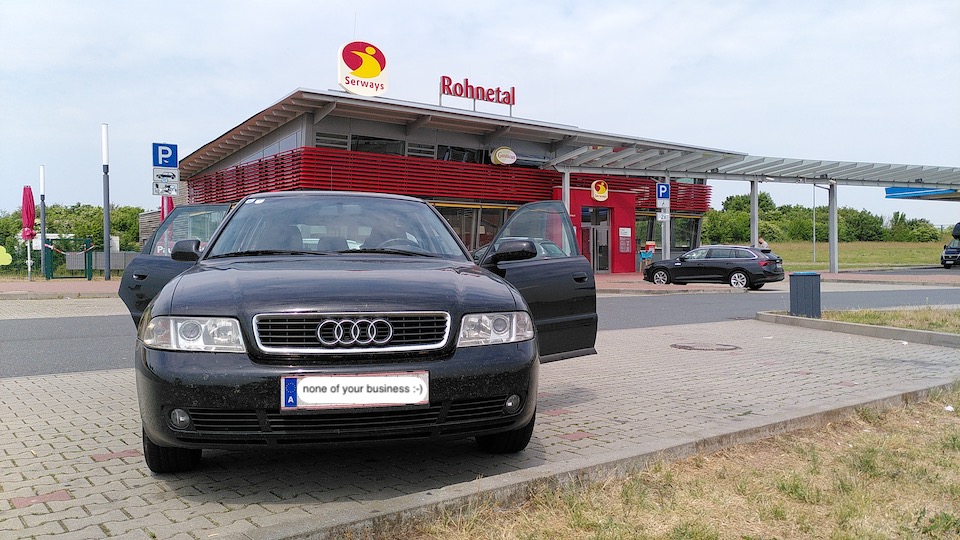 Listening to my friend Erwin's albums "Leb'n", "Anaseits" and "Host schon gheat?" proved to be just the right soundtrack for this road trip. I smiled as the highway signs started showing "Hamburg". Still two hours to go. At the next service area, I contemplated putting up a hammock between the trees. Yet instead, I lost my precious cool white hat – the one I got from my dear friend Dav in Arizona in early March 2020 when people were still flying.
Driving into the sunset again, I finally arrived at my destination in Groß Nordende, located about 30-40 minutes to the northwest of Hamburg. For me it was, and still is, the most gorgeous Airbnb place ever. Spacious, bright, beautiful. Two bathrooms, two bedrooms, cozy chairs and couches, a sweet little balcony. Birdsong all day, stillness at night. The best bed I've slept in for years!
How lovely would it be to share this place … and yet I knew my need for solitude, for now. Visitors were going to come soon enough: three days later Annika was going to stay for a night, and the rest would reveal itself.
The sea is calling me. Soon I will respond.
Soundtrack of the day:
Robin Wall Kimmerer – "Braiding Sweetgrass" (audiobook)
The Kinks – "You Really Got Me"
Erwin R. – "Leb'n" (album), "Anaseits" (album), "Host schon gheat?" (album)
Arstidir – "Hvel" (album), "Nivalis" (album)