Sunday, 20th June 2021
I wish I could tell you that from here onward things were becoming easy, that I knew what I was doing, that I figured it all out, that I discovered true bliss. But the "Dark Night" is typically not like that. As the title of one of Mark Matousek's books aptly says, "When You're Falling, Dive".
Sometimes our nervous systems resist taking up information. I've had to listen a dozen times to certain passages in audiobooks, reliably blanking out every single time, until I could keep my mind focused enough to grasp the actual words. Similarly with reading some books. Today I noticed significant difficulty of such kind when reading Darlene Lancer's "Conquering Shame and Codependency". Yet before that, I wrote this in my journal:
"Maybe it is time to move on?"

Pondering these words again that Mark had shared with me in 2019, I've felt dizzy, unsettled. The one option I had not seriously entertained – that I would need to let go of (...) entirely. (...)

This is the lesson from 2005: do not hesitate, do not slow down, do not wait for others. I can and must walk alone. No approval, no advice can support me there. I must find my own way now. Now. There is no further delay. I want to be relentless about this. Not manic, but "monomaniacal", with absolute dedication. The missing piece is to stop waiting for others, for love, for approval. This is the resolution of codependency.

This feels "hard". And I feel certain. It is a big risk to take. I do not know what awaits me. I do not know who I will be. I must risk any transformation. I must trust my inner guidance and the Great Mystery. (...) From here onward, let nothing deter me from the path.

My body feels exhausted – perhaps energetic shifts and blockages unraveling. Something is opening up: glimpses of freedom.

Back to Darlene's book.
I worked through remaining exercises of chapter 2 and the entire chapter 3: shamed feelings, expressed and suppressed feelings and needs, defenses against shame, and more. It's not an easy inquiry, particularly if you want to be radically honest with yourself, which is of course the point. It can also be valuable to revisit such an inquiry after a while, as each time new layers may reveal themselves. And at some point, one does well to move on.
I moved on and adorned my beloved Yamaha guitar with brand new D'Addario strings after some 20 years. This instrument had been gifted to me by my dear Aunt Inge about 27 years ago when I was 15, on the occasion of my Confirmation. I tuned the strings and played some songs, including an acoustic version of "How's the Heart?" from the latest Nightwish album (though definitely not half as good as Floor Jansen and Troy Donockley).
The inward journey had begun. Parts of my insides were kicking and screaming, passionately resisting the more determined parts. Nothing wrong there, but oh so exhausting. It seemed as though I could do very little to influence this unraveling, and much less (read: nothing) to control its outcome. I needed to let it happen, let it flow through me, while mostly stepping out of the way. I felt that all these parts were somehow steering together towards resolution – alas, I couldn't see the end of it. It seemed that I could only trust the process.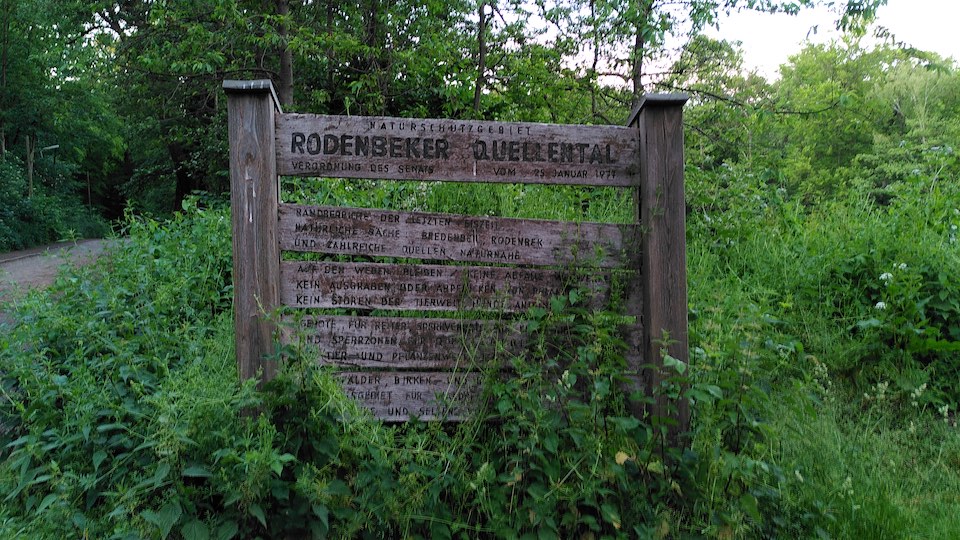 As evening approached, the trees were calling me again. I found a forest on the northern outskirts of Hamburg named Rodenbeker Quellental, parked the car at Gasthaus Quellenhof and started a threshold walk.
The threshold was, aptly, the crossing of a bridge to enter this Natural Reserve. I introduced myself to the trees by saying my name and declaring my purpose, asking to learn from them.
Walking, sitting on a bench, being besieged by mosquitoes. No rest for the wicked. I took a right turn and meandered on crooked paths. Remembering my deep connection to the trees, feeling them as living entities (with a certain kind of erotic energy), and momentarily thinking of Y, crows appeared. Follow them.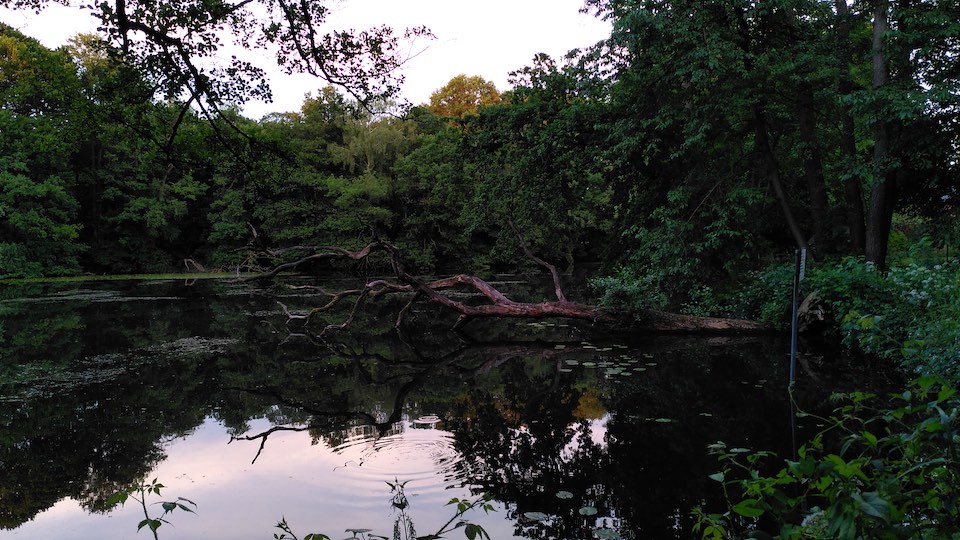 I came out of the woods, turned left, found myself on Bredenbekstraße, turned left again onto Diestelstraße, hoping to find back into the forest, resisting the urge to pull out my phone. Trust your inner compass.
To my dismay, Diestelstraße soon bent to the right. Should I turn back? Keep going.
I began taking every possible left turn, and at some point, discovering what seemed like woods on my left, I simply went off the beaten path, determined to keep on walking through the thicket until I would find back onto one. This is stupid! – No, this is what you wanted. Keep going.
This forest didn't look as forest-like as where I had started. I saw horses on my left. Dusk began to embrace us. I carried on, still trying to keep turning left where I could. Trust your inner compass.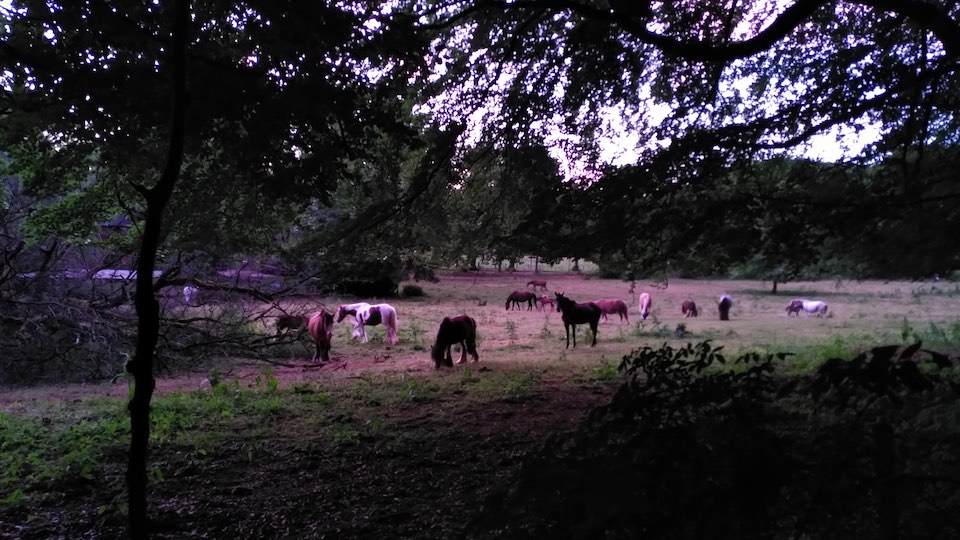 Dark passages through untamed parts of the forest appeared, and I took them all with a feeling of respect, but no fear. I spotted a deer in a creek, or was it a fox? After another 20 minutes, I began reciting the poem by Francis Thompson. Reaching the last line, I felt an uncanny sense of discovering something eerily familiar. I know these trees! And I know these … horses. – Oh shit. I've been running in circles!
I paused. What now?
I rubbed the magic lamp of Google Maps, and Captain Obvious appeared, pointing to the rather obvious fact that I was facing north, whereas I actually needed to walk south. Duh! I could certainly have understood this all the time, even by noticing the sunset on my left. Now the sun had long disappeared, dusk had fallen, temperatures were dropping, and I still had ways ahead to get back to the car. With a minimum of reassurance from Google Maps, I found a path through the woods, which were by now quite dark. Darkwoods.
No fear of the dark. Yet I remembered a night in 2012 when the effect of similar circumstances had been vastly different on me.
On August 24th, 2012, I went to a barefoot dancing event in an eco-village close to Vernier in France. To get there, I had to ride my bike through woods, which despite daylight made my hair stand on end. My friend Nadia was at the venue too, and another young woman whom I liked also came but left earlier. We all danced into late night like lunatics in a geodesic dome filled with sand, music, and hippies. 

I stayed for a little longer after the event, stood outside in front of a bonfire, feeling the four elements: Fire dancing before me, Earth carrying me from underneath, Water falling from the sky above, Wind caressing my back. 

I headed home on my bike as the rain picked up. Yet the roads I was hoping to take were dead-ends. I needed to turn back again and again, and eventually was left with no choice but to cross the woods once more. Darkwoods. The dim bike light illuminated the silhouettes before me, and yet I was absolutely terrified of the dark, flooded with fear of demons & monsters, evil witches & giant spiders. I screamed wildly as I traversed the woods, screaming imaginary Death in the face. 

I made it through. Streets again. No more rain. Not knowing the exact way, I took a left turn by intuition. It was probably 2:00am. I spotted a motionless human body on the road before me, a young motorcyclist presumably after a solo accident. As if on autopilot, recalling some first-aid principles, I attended to the young man who was dimly conscious. A young woman came along, and we took care of the man together. He regained his full consciousness and seemed okay, if under mild shock. He lived very close by with his parents, so we escorted him and his damaged motorbike to that place called home. 

I eventually arrived at my homebase in Chemin du Vieux Bureau in the Swiss village of Meyrin, quietly sneaked inside so as to not awaken my fellow housemates, packed my bags, fell asleep at 4:00am, and got up at 7:00am the next day to catch a plane from GVA to NCE. There I embraced my friend A, met Y for the first time, reunited with my uncle & aunt and more friends, and soon forgot entirely about sleep deprivation as we spent a most memorable week in Opio, France.
This time no screaming was necessary. I embraced getting lost in the woods, just as well as I embraced the darkness, and both guided me back to the light. The times they are a'changin'.
I crossed the bridge again, bade farewell to the trees, made it back to the car, and got home around midnight. With a smile I realized that I had just been gifted precisely what I had asked for at the beginning of this journey: to lose myself in order to find my way – or to lose my way in order to find myself. Maybe both?
Along that little odyssey, I got reminded of the dissolution of old fears – of darkness, shadows, confrontation. What is left to be afraid of?
Soundtrack of the day:
Nightwish – "How's the Heart?" (acoustic version)
Nightwish – "Human. :||: Nature." (album)
Darkwoods My Betrothed – "Witch Hunts" (album) … because the title of this entry, "Darkwoods", reminded me of a fun fact: Tuomas Holopainen, mastermind composer and keyboarder of Nightwish, has also been a keyboarder of Darkwoods My Betrothed, which is VERY different in style! Also, the title of track #3. Also, on the theme of this album, my heart weeps for the heinous crimes and acts of violence that our kin has been committing – against itself, against women, against other kin, against life – to this day.