Saturday, 26th June 2021
Part 1: Cycles
When you tell the truth, your story changes.
When your story changes, your life is transformed.

Mark Matousek
---
As this travel blog is coming to a close, I feel compelled to sum up what has been unfolding in this 14-day journey, transcribed into these postings over the course of almost three months. A lot has happened along this extended journey. I am clearly no longer the same person I was when it started, and yet I still am that one. What has shifted? What has evolved? What has remained?
For sure, I've been writing much more personal and 'authentic' here than ever before in a quasi-public space. My commitment to telling the truth has become increasingly sincere. Yet how much of this can be rightfully labeled a high-fidelity account, and how much is still a constructed narrative, an unintentional performance?
But the story isn't over yet. I still need to return to my Ithaca, the place I call 'home'.
---
I wake up once more in neighbouring lands, in the comfortable guest room of the Schröck family home in Bavaria. As the morning unfolds, I make the acquaintance of three Schröck generations: Grandma Schröck invites me to have breakfast with her and Grandpa Schröck, and soon their daughter and granddaughter join us. Who would have guessed that their granddaughter is in training to become a police officer? On that note, I remember the encounter with the highway patrol on Day 2 of this journey. Cycles are closing.
Strengthened by this delightful breakfast intermezzo, I pack up and drive off into the mystical morning mist. Grandma Schröck waves goodbye. What a lovely experience and good omen for the final part of this journey!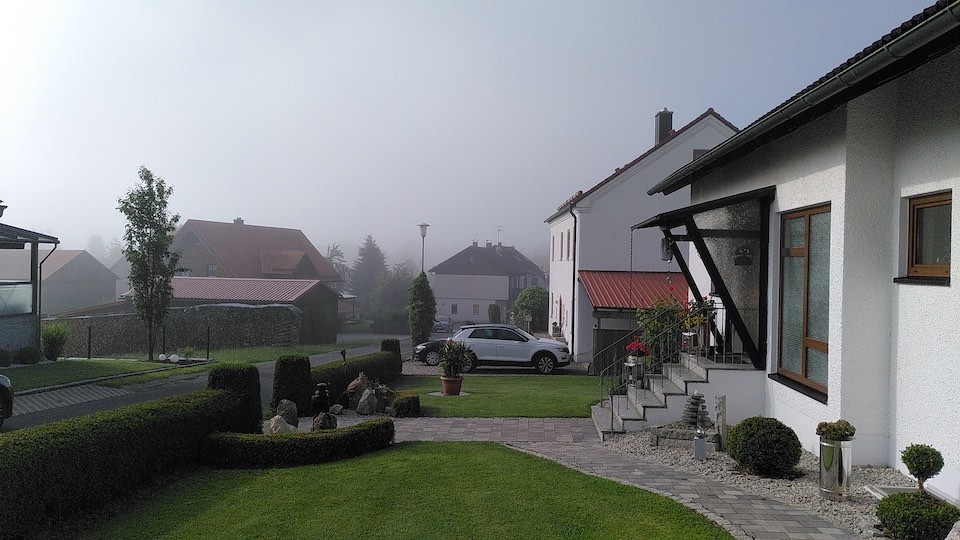 After a couple of hours, I am crossing the border to Austria. The journey almost closes yet another cycle (related to my late uncle) as I am spotting an exit sign to Lambach in the area of Upper Austria. I write to Aunt Michi to see if she is there and open for a visit. In retrospect, calling might indeed have made it happen; by the time of her written response, I am already too far along the way to Graz.
I take a longer driving pause to zoom into the opening session of an online Metta-Vipassana meditation retreat with Ven. Vīrañāṇi. I wish I could say that the ensuing part of the trip turns into a meditative drive through the alps, but the truth is that I'm trying to get back home as soon as possible while avoiding the highway with its long tunnels and significant fees. The view along this trip through the valleys, with lush green vegetation covering both slopes of the mountains, is outright stunning. Austria, you gorgeous home country! How could I not love thee?
---
Part 2: Courage
At first, it may be difficult to admit that your story is constructed from false information. Every life is a patchwork of secrets, half-truths, cover-ups, shams, and disguises. The most authentic among us have hidden compartments, shadowy corners, and contradictions we keep under wraps for fear of destroying our public image. As you disclose these secrets to yourself, you come to peel back layers of falsehood and reveal yourself as you truly are: a complex individual with myriad dimensions and conflicting needs. As you do this, you can integrate these clandestine parts into a more harmonious whole.

Mark Matousek, "Writing to Awaken: A Journey of Truth, Transformation & Self-Discovery", page 13
---
What's going on? My energy is low, and I am not sleeping well. This is partly by choice; yesterday night I created a full draft for the final part of my travel diary. I feel weird about it. Perhaps I am just naturally afraid of the possible consequences of self-exposure. of being seen in such intimate detail; in particular – ha! – of being seen as 'flawed', 'weird', or ... what? Interesting. Let me try to formulate this fear. Is it a fear that people won't talk with me any longer when they know that I am open to many belief systems and spiritual traditions, from hardcore scientism via Buddhism, Christianity, the occult? That I am talking with trees, or trying to? That I am an earnest seeker? That I am human? That I am a sexual being? 



Conformity

 is the name of this fear-defense. Two paths: (1) conform and seek a classic career path with 'security'; (2) rebel and seek your own path with 'risk'. Yes, I could lose my marbles. Will the world still hold me? If I went to the farthest end of imagination, experience, and meaning-making, will the world still hold me? If I went "off the deep end", will the world still hold me? Or rather – surprise plot twist! – will I still hold the world, will 'world' and 'I' still hold each other? 

This fear suddenly feels completely natural as much as unsubstantiated. Yes, I am 

standing at the edge

. I'm pulling a book with that title from my bookshelf: "Standing at the Edge: Finding Freedom Where Fear and Courage Meet" by Roshi Joan Halifax. A beautiful hardcover book with an evocative cover. Roshi Joan has touched me deeply on several occasions of direct encounter. This book does not come to me now by mere coincidence: it is right for a young edgewalker harboring an old soul, standing at the edge, bound to find freedom where fear and courage meet. <3

– Journal entry on Wednesday, 8th September 2021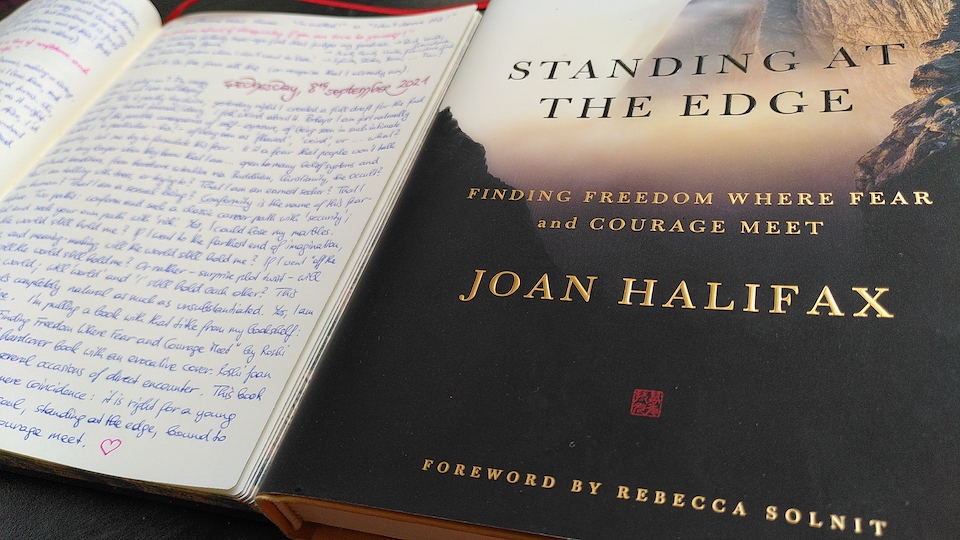 This whole journey has not been a simple and straightforward one. It has led me upon blissful heights and through dark chasms alike. Amidst all complexity and ambivalence, there is much to be grateful for. I recall precious times with family, friends, and children. The excitement of my first podcast interview. Long car rides with back pains and my first oil refill. A most gorgeous temporary home in Groß Nordende. Precious times with Annika and the Mindful Researchers. Expeditions through wood and water. Intimate encounters with trees and crows. Wild dreams and Kundalini energies. A first visit to the lands of Vikings and their heritage. Swimming in the Baltic Sea and the North Sea. Meeting old friends and making new ones. Deeply spiritual conversations. Sleeping in a treehouse. Pushing through layers of pain and love to discover a greater freedom beyond. The courage to walk in uncertainty along the edges between worlds. Planting myriad seeds, of which I could not possibly fathom the fruits they would bear soon enough.
Also, with all the distance traveled, my carbon footprint has been significant. :-(
---
Part 3: Homecoming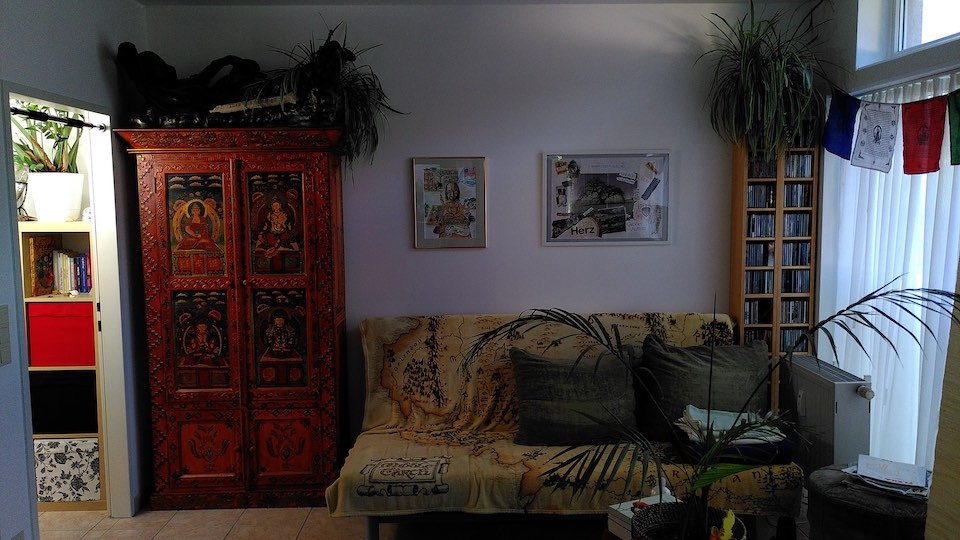 My old home greets me with a sense of comfort amd familiarity. Yes, this is a place that I have made 'mine', and it feels good to return to my Ithaca. And yet I know that my days here are numbered. I have made a resolve that in one year I will no longer live in this place. Not because I don't like it here – I most certainly do! –, but to heed the call that has stirred my heart once more. Will it lead me to Denmark? Norway, Sweden, Iceland? Ireland? Portugal? What luxury to be able to consider such travels and to freely pursue such relocations! I wish we all shared that same privilege, but with current worldly affairs, some humans are treated more equal than others.
I finish unpacking, then return the car to my brother. My 2-year-old niece Ylvi rejoices at the totally age-appropriate gift of a female Viking doll holding a little axe and shield. (Get 'em early, get 'em young!) Her parents receive one of the Danish mustards and beers; in the end, I only keep one beer called "Lagertha's Bryg", which is ceremoniously consumed three weeks later with Frédéric near the campfire of a Council gathering at the wonderful Scharmützelhof.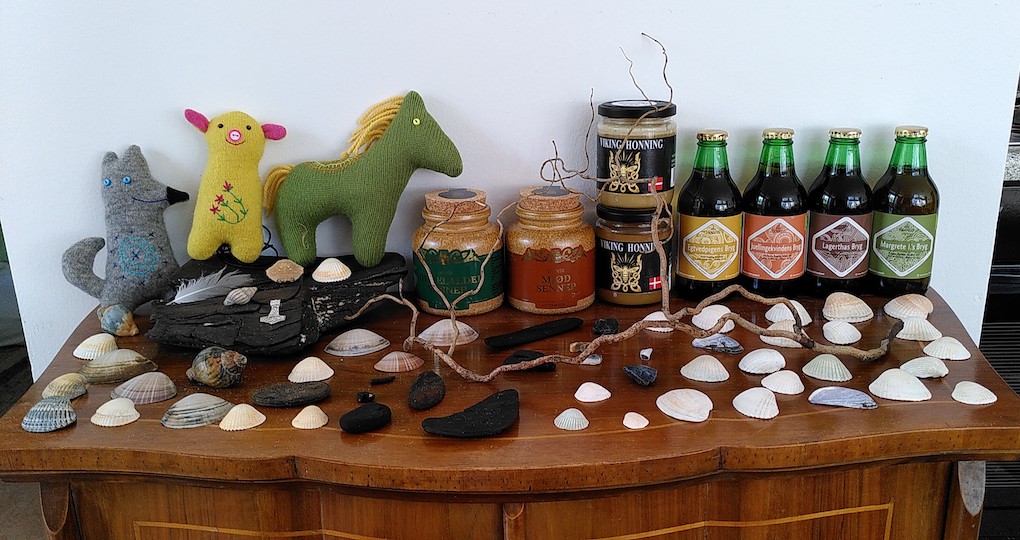 The water element is calling me. Walking to the beloved river Mur that flows through my hometown Graz, I listen into a "Cortona Pearl" presentation by Fritjof Capra, and then Zoom into a writing session led by Mark Matousek, encompassing juicy themes such as: saying "no", people-pleasing, guilt, pretense, entitlement, privilege …
On the way back, I serendipitously meet my massage therapist Antonio whose deeply healing Shiatsu treatments never fail to lead me into altered states of consciousness. Antonio invites me to join him for an early evening jogging round, and I spontaneously accept, which totally crowns the day and paves the way for a well-deserved tight sleep (and sore muscles the next day).
And this brings me indeed to the end of this chapter.
---
Part 4: Closing
When thy song is shield and mirror
To the fair snake-curlèd Pain,
Where thou dar'st affront her terror
That on her thou may'st attain
Perséan conquest; seek no more,
O seek no more!
Pass the gates of Luthany, tread the region Elenore.

From 'The Mistress of Vision' By Francis Thompson
---
Has this journey been in any way 'exceptionally special'? I think not. Most of the things that I have experienced might as well happen to you, and some of your unique experiences I could never begin to fathom. I simply choose to imbue them with meaning, opening myself to whatever layers and levels of experience might become available. This has become a kind of spiritual practice in itself, through which I hope to (re-)discover the spiritual practice that will sustain me further along the path.
All that, and the unexpected fruit of discovery that I am also an edgewalker. The appearance of "coindicentiae oppositorum" in my life does not happen by accident. I am beginning to gradually understand and embrace this as the journey is being integrated.
There has never been an urgency to write about all this, except for a mysterious 'calling' to do so, for the sake of discovery and integration, for the love of writing itself, and to finish what I have started. I believe that the practice of writing has changed me and has accompanied an ongoing transition. I am now writing regularly, old-school pen-and-paper style, currently working with Mark Matousek's book "Writing to Awaken" and the many challenging prompts therein. Perhaps soon there will be more writing here about other themes that I care deeply about – science, spirituality, nature, humanity, love, death, life, … We shall see. I also remain open to the harvest of unexpected fruit from all this; and maybe you hold the key, indeed?
Whoever, wherever, whenever you are: YOU MATTER. You are beautiful. You are loved.
This last picture is taken upon my return to Graz right before unloading the car. The T-shirt (one of my favourites!) has been acquired at a store in The Castro district in San Francisco during the memorable journey of October 2012 – another cycle closing.
Lastly, I'll share with you a very personal note that I might indeed have written to myself, but it came as a gift from someone who knows me very well, while I was in Denmark:
"Now with the shift in your relationship to (...) you are finally free to love and be loved as you truly desire, in relationship to a woman who's available, open, (...) a person who simplifies your life rather than complicates it, who doesn't send mixed messages or keeps the "tragic romantic" inside you starving and on tenterhooks, addicted to longing, waiting, hurting, and hope. Enough of that! You're a smart, kind, attractive guy with a LOT to offer the right woman. Now that you're (getting) free at last, I trust she will appear fairly soon, and you will finally have the relationship between equals you've been waiting for."
Speaking my heart,
Freedom at last:
May it be so.
Namárië!
(… to be continued …)